Assure Enterprise Resource Planning ERP Software (Full Version)
Assure ERP Full Version 
Assure ERP Full Version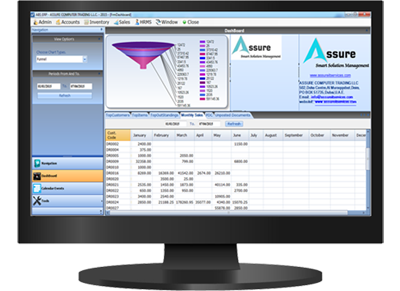 Assure ERP Full Version Financial Accounting module is a software program that gathers Financial Accounting data and generates reports such as ledgers, trail balance data, overall balance sheets and quarterly financial statements.
READ MORE HERE.
In Assure ERP Full Version sales management system is a tool that helps salespeople get organized, manage their contacts better, track their sales deals more efficiently and save them time. In short – a tool that helps salespeople sell more.
READ MORE HERE.
Assure ERP Full Version Procurement & Inventory Control System form the interfaces in today's supply chains of industrial goods. As the global division of work is still increasing in all industries in order to improve speed, process integration and customer satisfaction there is a growing need for a modern sourcing system.
READ MORE HERE.
Manufacturing Production Management in Assure ERP Full Version, manages all the mix, blend, fill and assemble processes required to manufacture one's finished goods, including co-products and by-products, in a make-to-order, make-to-stock and mixed-mode manufacturing environment. Batch jobs are either manually or dynamically created, linked and scheduled. Inventory allocation, equipment scheduling, and QC test and special instructions execution are managed by the production module. Raw material inventory consumption is either manually recorded or automatically back flushed by the system, based upon the finished goods yields and the batch job formulas. From inventory appropriation to finished goods completion, all production and quality related transactions are captured and reported, including actual inventory usage, labor costs, and yields.
Production staff can manually reserve inventory, adjust batch formulas, reassign equipment resources then monitor WIP to ensure that batch jobs meet their targets. Mandated execution of QC tests and special instructions can be performed by the production staff via mobile devices.
READ MORE HERE.
Project management module quickly becomes a mess when planning is detached from execution. New incoming requests, changes in deadlines & requirements, creative work, collaboration between multiple teams – Assure Computer Trading LLC helps you take real-life challenges under control and adjust schedules in real time. Assure will help your teammates do their work too. As your team works, your plans adjust automatically, and you don't need to chase people for updates.
Assure Enterprise Resource Planning ERP solution offers Project Management module everything you need to deliver exceptional customer service. Project Management manage all your customer conversations in one place, no matter what the source – email, phone or social media, so you can offer support that is both personal and quick. Assure Enterprise Resource Planning  is easy to use, so you can focus on what matters the most – supporting customers.
READ MORE HERE.
A HRMS (Human Resource Management System) is a combination of systems and processes that connect HRMS and information technology through HR software. A HRMS may help to revolutionize a workplace. The automation of repetitive and time consuming tasks associated with human resources management frees up some of the companies most valuable employees and allows the focus to shift to culture, retention, and other highly impact areas.
READ MORE HERE.
Assure Enterprise Resource Planning ERP Software (Light Version)
The central feature of all Assure Enterprise Resource Planning ERP Software systems is a shared database that supports multiple functions used by different business units. In practice, this means that employees in different divisions—for example, accounting and sales—can rely on the same information for their specific needs.
Assure Enterprise Resource Planning ERP Software also offers some degree of synchronized reporting and automation.
Instead of forcing employees to maintain separate databases and spreadsheets that have to be manually merged to generate reports, Assure Enterprise Resource Planning ERP Software solutions allow staff to pull reports from one system.
For instance, with sales orders automatically flowing into the financial system without any manual re-keying, the order management department can process orders more quickly and accurately, and the finance department can close the books faster.
Other Assure Enterprise Resource Planning ERP Software features include a portal or dashboard to enable employees to quickly understand the business' performance on key metrics.
Windows based, User friendly and fully menu driven

International Financial Reporting standard – IFRS

Flexible, Reliable and Powerful

Multi Company, Multi User, Multi Location and Multi Currency

Powerful Multilevel External / Internal Security Features.

Powerful drill in drill out inquiries

Fully Integrated modules and sub-modules

Powerful customized multilevel reports

Sophisticated Auto Year-end Procedure

Managed and Automatize Operations

Secure and real time Operations

Increases organizational performance

Reduces Operational Cost

Support Strategic planning

Customized database and effective installation

Truly International Software

MIS Reports on finger tip