The Challenge for companies
If each department inside a company has its own software system that does not mesh with the software used by the other departments, you're going to experience issues that impede information flow and analysis, employee productivity, and sales growth.
The Solution
Assure Enterprise Resource Planning ERP is here to eliminate this constraint on your company's success by linking together the software of each department (finance, HR, marketing, logistics, etc.) into a seamlessly integrated system that equips your team to more easily and efficiently capture, manage, and share business critical information across all business units.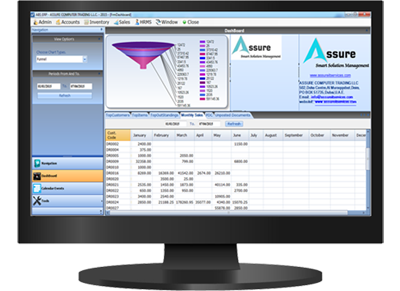 Benefits of Assure Enterprise Resource Planning ERP for your Business.
Automation enhances productivity – By automating Enterprise Resource Planning ERP applications into business processes, makes them more efficient, less prone to error, and faster.
Integration across all business processes – Enterprise Resource Planning ERP system should be fully integrated into all aspects of your business, through planning and scheduling, to the production and distribution of the products you make.
Integrates across the entire supply chain – Best Enterprise Resource Planning ERP system should extend beyond your organization and integrate with both your supplier and customer systems to ensure full visibility and efficiency across your supply chain.
Increase overall performance – Ensures coherence and avoids duplication, discontinuity, and people working at cross purposes, in different parts of the organization.
Quality Reports and Performance Analysis – Analysis will enable you to produce financial and boardroom quality reports, as well as to conduct analysis on the performance of your organization.
Cross-platform Support – Supports both Windows platform as well as web, regardless of browsers and platforms.
Efficiency

97%

Accurate data

99%

Integrated Information

89%

Quality Report

99%

Security

99%
The Results Were Amazing
After implementing Assure Enterprise Resource Planning ERP, your company will see the difference in all major aspects that circles around your company. Assure ERP will eliminate repetitive process, greatly reduce the need to manually enter information and it will streamline business processes and makes it easier and more efficient to collect data.